At kul grilles, we can custom manufacture almost any size to suit your unique requirements. From small, sleek, linear vent covers to long, spliced sections (Our largest to date is over 35 feet long!) - we can help you design custom air vent covers that will complete your modern space.
Have a vision?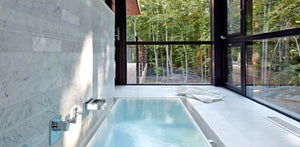 The world's most beautiful spaces deserve kul grilles
We supply custom and standard sized vent covers to the most beautiful spaces in the world. From brand new design build modern homes, to mid-century renovations, our modern air vent covers are the perfect accent to finish your modern masterpiece.
Available Configurations
We can manufacture a variety of configurations to suit your design vision. From long, linear design features to large square return air grilles, we have the capabilities to help you build your custom vision. Contact one of our product specialists for any specific questions or challenges.
Specifications
Minimum size we can manufacture
4"x1-1/2"
Maximum size we can manufacture
72" x 18"
We can manufacture sections longer than 72" by joining grilles together (splicing).
Maximum width
8" for floor and 18" for wall/ceiling mounted grilles.
Brushed Chrome Finish
Our Brushed Chrome Finish is a hand brushed aluminum finish with a light, oven baked clear coat to prevent fingerprints and scratches. This finish is the most complementary to stainless steel or brushed nickel and satin fixtures.
Powder Coat Paint Process
Our Powder Coat Paint Finishes (Glacier Frost, Black Monolith and Wenge Brown) are extremely durable and resistant to chipping, scratching and corrosion. Our paint systems are extremely flexible, allowing the handling of large single-piece sections of varying size and lengths.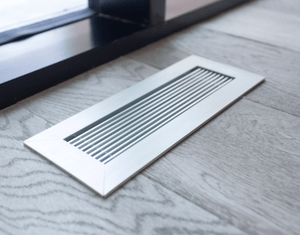 Anodizing Process
Our Anodized finishes offer a sleek, satin finish to match modern anodized accents. Anodizing is an electrochemical process that creates a protective coating of aluminum oxide on the surface of our vent covers.
Unlike painting, the anodizing coating is not applied to the surface. Instead the existing aluminum oxide is enhanced and grown out from the aluminum. This creates a surface that is much harder and more resistant to corrosion and abrasion than raw aluminum.